The U.S. House of Representatives on Thursday passed legislation that would block states from requiring the labeling of genetically engineered foods, or GMOs—a move that consumer rights groups decried as corporate power defeating Americans' right to know what's in their food.
The bill, H.R. 1599—dubbed the "DARK Act" (Deny Americans the Right to Know) by its critics—passed 275-150.
It was backed by the food industry, including the Grocery Manufacturers Association and Monsanto Company, which havepoured money into defeating GMO labeling initiatives.
Wenonah Hauter, Executive Director of Food & Water Watch, a group that opposed the bill, explains: "The bill that passed includes provisions that would preempt states from labeling GMOs or enforce already passed GMO labeling provisions (like Vermont's Act 120), and would prohibit states from having any oversight of GMO crops, for example, a county-wide ban on growing GMOs or GMO-free zones in certain organic seed-producing areas. Instead, this bill would create a voluntary federal GMO labeling standard for companies, weakening already deficient regulations."
It was co-sponsored by Rep. Mike Pompeo (R-Kan.), who said following the vote that bill "provides needed clarity in food labeling."
Among those disappointed in the passage of the legislation is the Center for Food Safety.
"Passage of this bill is an attempt by Monsanto and its agribusiness cronies to crush the democratic decision-making of tens of millions of Americans. Corporate influence has won and the voice of the people has been ignored," stated Andrew Kimbrell, executive director of Center for Food Safety.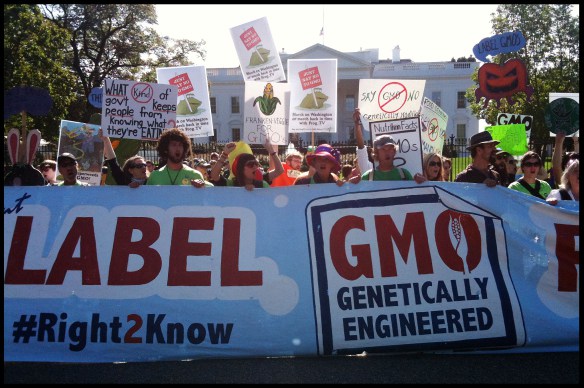 Environmental Working Group (EWG) was also opposed to the bill, and cited widespread public support for labeling GMOs.
"It's outrageous that some House lawmakers voted to ignore the wishes of nine out of 10 Americans," said Scott Faber, senior vice president of government affairs for EWG.
The outcome of the vote was a "foregone conclusion," he continued, because "this House was bought and paid for by corporate interests."
But Ronnie Cummins, international director of the Organic Consumers Association, stressed that the fight is far from over—so expect resistance.
"We are committed to stopping this outrageous, anti-consumer, anti-democracy legislation from succeeding," Cummins said. "We will do so by mobilizing a massive opposition movement that transcends political party affiliations, and that unites consumers of all ages with organic farmers and retailers whose livelihoods are threatened by this legislation, and with the medical and scientific experts who are outspoken about the potential health and environmental risks associated with GMO crops and foods.
"It's time to hold every member of Congress accountable. Either they stand with Monsanto and Big Food in support of the DARK Act, or they stand with the overwhelming majority of their constituents for truthful labeling and consumer choice," Cummins stated.
Instead of H.R. 1599, hundreds of farm, public interest and environmental organizations have urged (pdf) passage of bipartisan legislation that would require labeling of GMOs.
Source: CommonDreams
---
Click below for our latest interview with Host of Redacted Tonight on RT, Lee Camp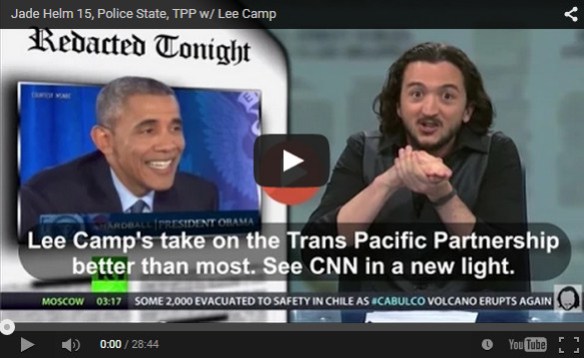 ---
Subscribe to our YouTube channel