(CBC) -Three former Budget Rent a Car employees have contacted Go Public to allege the Vancouver-area operation systematically and intentionally rips off customers, by grossly overcharging for minor repairs that sometimes aren't even done.
"They did it on purpose — charging the customer like way too much," said a former lot attendant, who worked at Budget's Vancouver airport location for a year, checking cars for damage. He agreed to speak to CBC News only if he was not identified.
"The system is run like that … the small charges, they make them big charges. Especially the windshield. They can make more money from the windshield," he said.
"All of the inspectors have to look at the windshield first."
He said staff members were told to inspect vehicles from top to bottom, even after customers were gone, and report any damage to managers no matter how minuscule.
"I remember one time there was a senior couple. The other [employee] found out there was a tire cut. But from our standards, they should not charge them, honestly," he said.
"The other [employee] asked for the manager to come out and take a look. And then the manager charged them, just charged them."
Some repairs not done
"If there was a scratch on the car, we charged their credit card immediately … and that scratch would never even be fixed," said another former employee.
She worked at the Budget counter at the Abbotsford airport, and also spoke on condition she would not be named.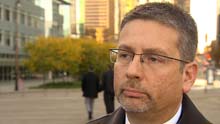 Greg Harrison, Budget's general manager in Vancouver, said he is looking into the allegations made by ex-employees. (CBC)
"For the three months that I was there, I saw only one car go to the repair shop, and it was rear-ended."
She said several renters would be charged for rock chip damage on the same vehicle, but no repairs would be done until later when the vehicle needed a new windshield.
"Once the windshield has three rock chips in it, it would get replaced, and then at that point that customer would get charged for a whole windshield," she said.She also claimed she was trained to push people to buy Budget's insurance coverage — using a memorized script — even when they were covered by their credit card or other insurance.
"We were there to sell insurance. We were there to convince customers that were renting cars that they had no insurance."
She said many customers who bought insurance were later charged the $300 deductible.
"Every time there was a scratch, I would always get a manager, because I didn't want to be the person getting screamed at [by the customer] for the fact it wasn't their responsibility," she said.
"The manager would decide how much to charge [the customer account]."
She also claimed three or four times a week people were billed for damage they didn't cause.
"If [earlier renters] didn't notice it and we didn't notice it, then we would just charge the next person," she said.
Upset customers
"I saw customers that cried. They really cried. They were shocked," said the lot attendant.
He claims some people were made to pay for damage caused by Budget employees after vehicles were checked in.
"Sometimes it's the employees that make the damage, but everyone doesn't want to be responsible for that. The manager will make a decision 'Hey, call the customer — he's your damage.'"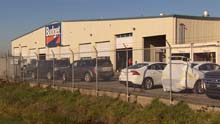 A former manager from the repair facility said customers were overbilled for repairs on every vehicle Budget sent there. (CBC)
"There were a lot of [customer] complaints when I was there," said an ex-manager, who worked at Budget's repair facility at the Vancouver airport several years ago. Go Public agreed not to name him, because he fears repercussions.
He estimated 25 customers a day were overcharged for repairs.
"Every car that came from Budget that needed repair all had inflated costs on them, frivolous charges on them. Every repair that went through the system — the customer got overbilled."
Budget's repair facility is owned by Inland Transportation, a company owned by wealthy Vancouver businessman Syd Belzberg. He also owns Budget Rent a Car of B.C., which runs the car rental outlets in B.C.'s Lower Mainland.
Profits shared
"The way [Belzberg] got around it is he would write a cheque from Budget to Inland Transportation [for inflated repair costs], as if it was an outside firm, and he wasn't making profit."
In reality, he said, Budget and Inland Transportation are the same Belzberg operation.
"He was there every day," said the former manager. "Everything that was going on, he knew about."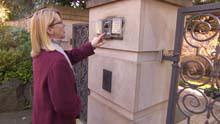 Go Public reporter Kathy Tomlinson tried to connect with Syd Belzberg at his Vancouver mansion, but didn't hear back. (CBC)
The ex-manager said he purchased windshields in bulk, for less than $100 each. Inland would then bill Budget approximately $800 for each installation and that cost would be passed on to customers.
Go Public heard from several recent renters, whose accounts were billed in excess of $1,000 for a new windshield.
The former manager also claimed customers were billed for windshield replacements, when in reality only a chip was repaired, at nominal cost.
"Different customers would be billed … on a windshield before it got replaced," he said.
"We repair the chip. The customer gets billed for a new [windshield]. It doesn't get replaced. Another customer takes the car, chips the windshield again. He gets billed for a new one again. And it could have happened on numerous occasions — especially in ski season."
Manager promises action
Belzberg didn't return calls, but general manager for Budget Rent a Car of B.C. Greg Harrison told Go Public he is looking into all of the ex-employees' claims.
"I wasn't aware of these allegations, but we take them very seriously and will look into each one of them," said Harrison. "It's our commitment to offer a high level of service with everything we do, so we take it seriously. We'll look into it."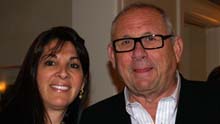 Syd Belzberg, pictured with his daughter, owns Budget's repair facility in Vancouver and oversees Budget's operations in the Lower Mainland. (CBC)
He said sometimes windshield chips are repaired, but "to the best of my knowledge" those customers had not been charged for a new windshield.
"All our windshield repairs are determined, whether we repair or replace, by an independent company, Speedy Auto Glass, which comes on site and does all our glass work for us."
When asked how Budget can charge 10 times what it costs to do windshield repairs, Harrison said the repair facility is "accredited" by B.C.'s public insurance provider.
"We offer the rates that are based on ICBC standards for our shop which is an accredited ICBC shop and that's how we continue to offer the high standards we set for ourselves in the rental industry," he said.
However, Go Public discovered the repair facility is not accredited by ICBC, a contradiction Harrison couldn't explain.
"To the best of my knowledge, we're an accredited shop. You're giving me information I have no knowledge of prior to this moment," Harrison said. He later sent an email saying he was misinformed by another manager.
Under investigation
As a result of our stories on Budget, Harrison confirmed the corporate head office in the U.S. has put Belzberg's operation under investigation.
"We've been in contact with them and we're providing them information as need be," said Harrison. "We are contacting customers, anyone who contacts us we are responding to them.
"If in a customer's mind they feel we have done something wrong, we want to make it right."
In some U.S. states, courts have ruled it's illegal for rental car companies to charge more for repairs than what they cost.
Several years ago, Hertz was made to pay almost $7 million in fines, after New York's attorney general went after the company for overcharging customers $13 million for repairs.
There is no specific consumer legislation in B.C. prohibiting the practice, though. The car rental industry is largely unregulated in Canada.