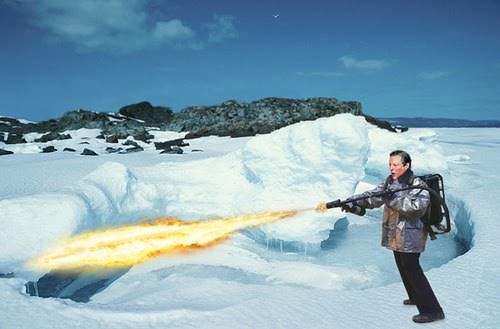 The Max Planck Institute in Germany is among the world's most prestigious scientific research institutions, and a new study coming from its Institute for Meteorology cannot be dismissed by warmist profiteers like Al Gore.  Michael Bastasch reports at the Daily Caller:
A new study out of Germany casts further doubt on the so-called global warming "consensus" by suggesting the atmosphere may be less sensitive to increases in carbon dioxide emissions than most scientists think.

A study by scientists at Germany's Max Planck Institute for Meteorology found that man-made aerosols had a much smaller cooling effect on the atmosphere during the 20th Century than was previously thought. Why is this big news? It means increases in carbon dioxide emissions likely cause less warming than most climate models suggest.

What do aerosols have to do with anything? Well, aerosols are created from human activities like burning coal, driving cars or from fires. There are also natural aerosols like clouds and fog. Aerosols tend to reflect solar energy back into space, giving them a cooling effect that somewhat offsets warming from increased CO2 emissions.
In other words, there is a self-canceling effect from the emissions when it comes to raising temperatures.  There are many other holes in the global warming theory as well, including the natural factors such as sunspot activity that have produced dramatic climate changes throughout geological history.  The unknowns overwhelm the known factors.
But one thing we do know now is that the heart of warmist model, the purported sensitivity of temperature to CO2 levels, was incorrect.  Thus:
"Going forward we should expect less warming from future greenhouse gas emissions than climate models are projecting," write climate scientists Pat Michaels and Chip Knappenberger with the libertarian Cato Institute, adding that this study could be a "death blow" to global warming hysteria.
Source: American Thinker
Subscribe to our YouTube channel